Indian head coach Ravi Shastri recently spoke to Time Now on a number of topics from coaching the Indian team to personal relationships with Sourav Ganguly. Despite the tough questions, Shastri seemed unflustered by the pressure and responded to each question with a pinch of salt. His tenure with the Indian team is ending after the T20 World Cup in the UAE.
Meanwhile, ahead of the fourth Test, he spoke to Times Network's Group Editor Navika Kumar who asked him a range of questions. One of them was about reports of rift between Virat Kohli and Rohit Sharma. The topic has made the news for some time now with no authentic source or proof. Both cricketers involved have also denied such reports in the past.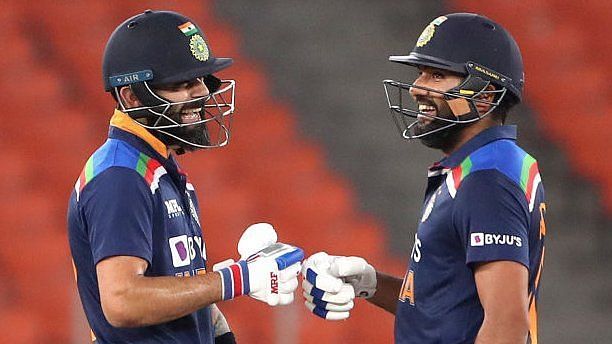 Shastri denied reports of rift between the two senior players saying
"I never saw it. So when people used to ask me like this, I say what you have seen I have not seen. Hamesha taalmel acha hai (the co-ordination has always been there). I have never seen it affecting the team. If I see an effect in the team, I will say on Virat or Rohit's face that this is not on and you have to look at things differently. But not once have I seen it impacting the team from day 1. I am a person who says what I want" Shastri asserted saying.
Shastri further said that the pressure is on England to beat India at home. Bowling coach Bharat Arun also said that India have bounced back from defeats and has the confidence to do it again.
💬 We are ready to bounce back in the next Test: B Arun 🗣️#TeamIndia looking positive ahead of The Oval Test 💪🏻#ENGvIND pic.twitter.com/81KGyU8nqN

— BCCI (@BCCI) September 1, 2021
Pressure Is On England: Ravi Shastri
"If anyone thinks that this Indian team is going to back off, they have another one coming because at 1-1, we are playing overseas, the pressure is on England. They have to win in their own country. We have done what we had to do with them in India. So, the ball is in their court and we will fight, there's no question about it" said Shastri.
India play the next Test match on 2nd September at the Kennington Oval, London.
Also Read: ENG vs IND 2021: Wasim Jaffer Expecting More From India Captain Virat Kohli
---