Steve Smith, Australia's star cricketer, has regained form with back-to-back centuries in the ongoing Big Bash League. He not only scored runs, but he also helped his team, the Sydney Sixers, get off to a good start. Furthermore, he has played some unconventional shots on several occasions, making him a one-of-a-kind batter.
Surprisingly, Smudge's passion for tennis is well known. He has been a long-time fan of the game, and his batting style, particularly the shots he hits to bowlers, resembles some lawn tennis shots to a large extent.
As a result, Steve Smith has credited tennis for greatly assisting him in improving his game in cricket. Smudge revealed an intriguing link between his batting style and tennis.
"I was probably actually holding the bat how I hold my tennis racket before", the 33-year-old said at the SCG. The right-handed batter went on to elaborate and elucidate in detail, how he has thoroughly gotten into changing the grips of his fists around the handle of the bat, from a more top-spinning 'western' grip to a more liberal 'eastern' or 'continental' grip. These are terms which are associated primarily with the game of Tennis."
"I don't know what it's called, the western grip maybe with my right hand. But I've opened that up to what's called a continental grip maybe … a bit more open, just allowing me to slice the ball and hit gaps and hit the ball further. It just opens my bat face a bit. If you look at some of my footage from 12 months ago … four or five years probably, during that period I was quite closed with my face, which probably didn't enable me to hit the ball as big", he added.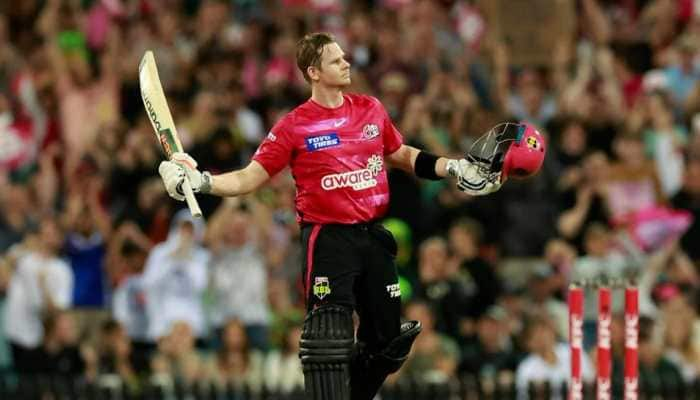 "Hopefully I can continue scoring some runs and helping firstly the Sixers and then the Aussies after that" Steve Smith
Smith is pleased that he changed his batting grip just in time, as he believes it has greatly improved his batting performance and also allowed him to spend more time at the crease and score those big runs.
"I was probably top spinning it, as opposed to back spinning it and letting the ball go up and away further. I thought I back spun a couple of nice ones tonight. The ball just travels a lot better when you do that. It's been a nice adjustment for me, I feel like I'm batting well in all forms of the game. Hopefully I can continue scoring some runs and helping firstly the Sixers and then the Aussies after that", Steve Smith concluded.
---
Get the latest cricket news here, like us on Facebook, and follow us on Twitter and Instagram for more such updates.