Indian skipper Virat Kohli had a role to play in the battle between James Anderson and Jasprit Bumrah in the second Test at Lord's believes Sanjay Manjrekar. India won the second Test by 151 runs to take a 1-0 lead in the series. There were many battles fought within the big battle of the Test match and one such was the battle between Bumrah and Anderson. The Indian pacer targeted Anderson with a barrage of bouncers to make him uncomfortable at the crease.
The English pacer was having serious troubles facing Bumrah's heat in the middle during England's first essay, while in response to India's 364. Meanwhile, former Indian batsman Sanjay Manjrekar feels that making Bumrah attack Anderson with the short-pitched deliveries was a deliberate ploy by Virat Kohli.
In his column for The Hindustan Times, Manjrekar wrote, "When, out of the blue, Jasprit Bumrah started a relentless attack of short balls aimed into the body of no 11 Jimmy Anderson. It was very un-Bumrah like. Normally you would expect him to bowl a fast, full delivery into the stumps to Anderson to finish off the innings quickly like he did in the first. I am guessing this was Virat Kohli's plan executed by Bumrah. Go after the main guy in the opposition, soften him up a little, stir him up a bit or maybe injure him in a way that the main English weapon was blunted."
Manjrekar recalled back to his playing days and he said that none of the captains under whom he played did attack the opposition with such tactics and that he why he loved the contest.
James Anderson Was Genuinely Affected: Sanjay Manjrekar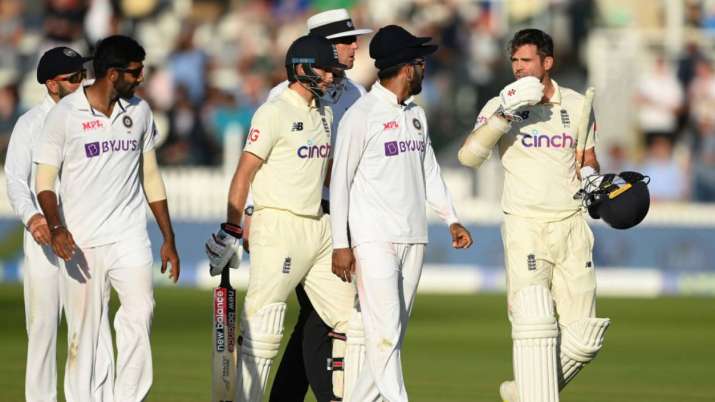 "Whatever the reason, I just loved it. Why? Because right through my playing career no captain of mine – barring one – did this to any opposition fast bowler fearing the backlash. This is Virat's great attribute. He is genuinely aggressive and fearless and he is in your face. His team may not be as demonstrative of this trait, but they are bound to imbibe some of it. At the end of Day 3, while walking out you could see Anderson was genuinely affected. He had lost his calm as a competitor. It seemed to me his ego was bruised a little."
The third Test starts in Headingley from August 25. India under Sourav Ganguly last won a Test match at this venue in 2002.
Also Read: IPL 2021: Sunrisers Hyderabad To Depart For Dubai on September 1: Reports
---