As New Zealand's record Test run-scorer, Kane Williamson says he is honoured to be at the top of a list of greats and intends to mark the occasion with a series-clinching win over England in the second Test.
Williamson passed the age of 28 early on day four, surpassing Ross Taylor's total of 7,683 runs in his 161st innings. He then scored his 29th century in a Test, enabling the Blackcaps to defeat England in their ensuing innings.
A response of 483 was kept together by the 32-year-132, old's giving Ben Stokes' team a chase of 258 to win the series 2-0. Tim Southee, who took over as Test captain when Williamson stepped down last December, removed Zak Crawley to leave the tourists 48 -1.
"It's not something I've thought a whole lot about," said Williamson after the day's play. "But it is an honour. You look at that list, and I've admired all of those players over those years, whether that's watching from afar growing up or playing alongside a number of them as well. Like I say, it's not a focus point but it's special to be amongst that company."
"It would be pretty special for sure," he said on the prospect of becoming only the fourth team to win a Test after following-on. "It's exciting going in to day five. As a bowling attack and a team, we want to make sure we're on come tomorrow. There's still some assistance there and some assistance for the slower bowlers as well. All to play for, which is exciting."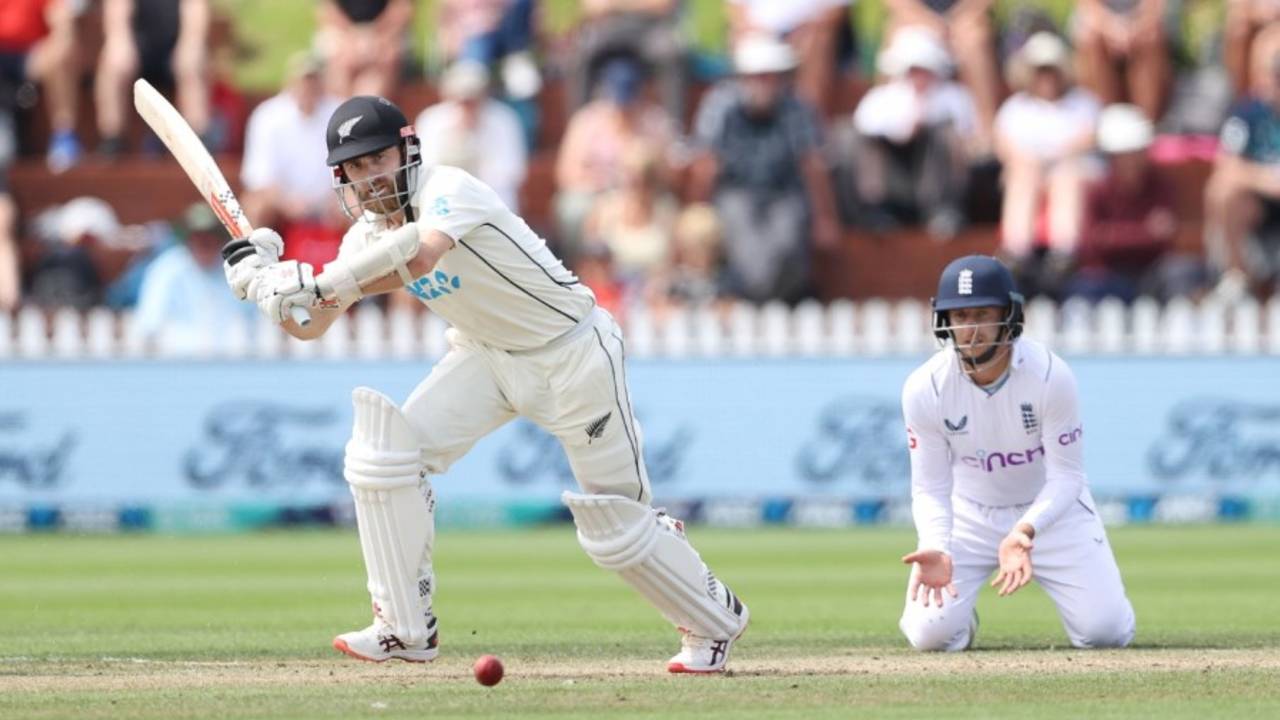 "He was on point" – Kane Williamson
Williamson, however, was angry at being let go. Not just because it was the beginning of a five for 28 collapses from a dominant position of 455 for 5, but also because the bowler who got rid of him was not even a bowler. Harry Brook, whose achievements have all come with the bat, was introduced in the 148th over to allow Ollie Robinson, Stuart Broad, and James Anderson a break before the possibility of a third new ball.
As Brook miscued his third of seven medium-pace overs, he sent a delivery down the leg side that Williamson flicked into Ben Foakes' gloves as he was positioned near the stumps. He shook his head and thought about it.
"He didn't miss his length at all, ey? He was immaculate.
"He was on point. Maybe that (the wicket-taking delivery) was the worst ball he bowled, actually."
On the insistance of Joe Root, who thought he heard something, Ben Stokes reluctantly requested a review after initially being told not to go out onto the field. A ruling was reversed after a noise was heard as the ball passed the bat's face. Williamson is pleased that the technology performed even though the surge was not significant.
"In my instance, it was," he said when asked if UltraEdge had worked correctly.
"But I think at times you see some shakes in the lone. Whether that's accurate or now, I don't really know. We had a few dismissals in Pakistan."
---