Indian fans remember 19th July 2019 due to two reasons. First, because it was MS Dhoni's last game international game for Team India. Secondly, because the side lost the game and was knocked out of the 2019 World Cup. Chasing 240 to win, Dhoni was run-out on 50 bring an end to India's chances of winning the game. India ultimately lost the game by 18 runs and missed a shot to their third 50-over World Cup title.
Meanwhile, on the second anniversary of MS Dhoni's run-out, Twitterverse turned back the clock and remembered the day. The whole of India was hopeful of India reaching the final, but a bullet throw from Martin Guptill ended the nation's hopes. As it turned out, Dhoni was millimeters short of his ground and for once, he was beaten on speed.
The whole of India remembered this day and reacted to MS Dhoni's infamous run-out and India's exit from the World Cup.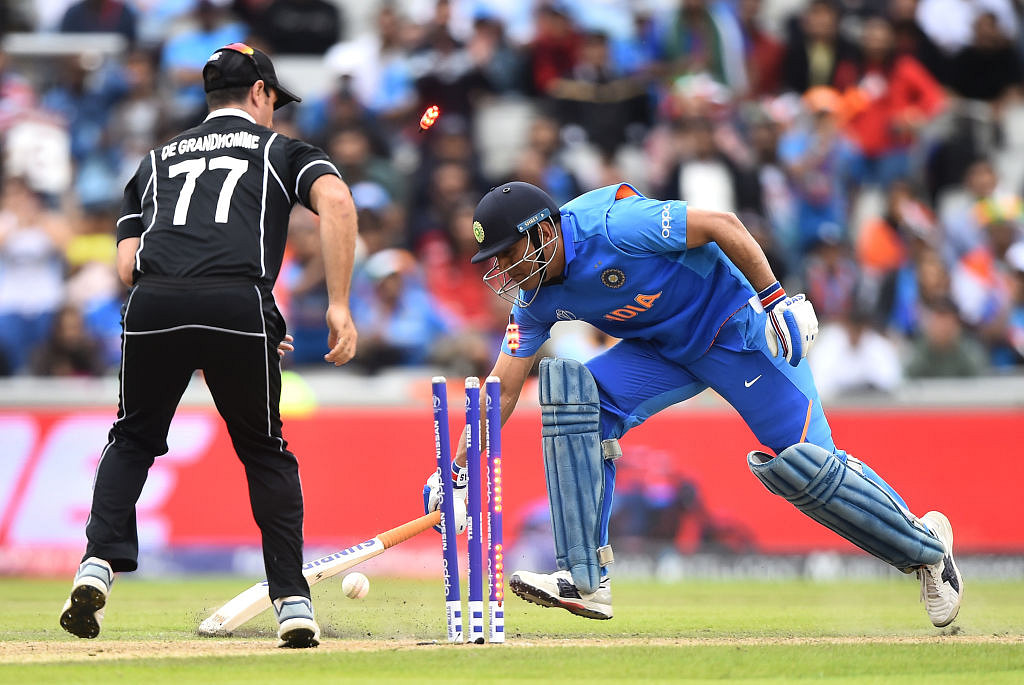 Twitterverse Remembers MS Dhoni's Unfortunate Run Out
Just wanted to tell that had he not been runout he would have chased it..He tried to take that run to keep the strike..TO MAKE INDIA WIN & the runout was an accident..If your heart doesn't ache even after seeing him crying..do u really love cricket?

STOP BLAMING MS DHONI 💔 pic.twitter.com/I9dK1qH58N

— TheMSDianGirl❤️ (@themsdiangirl7) July 10, 2021
Action speaks louder than words. pic.twitter.com/dfw5buAqP8

— Memoir of an illusionist (@paradis11957544) July 10, 2021
Whole India believed in him
That's MS Dhoni 🙂❤️@MSDhoni • #MSDhoni • #WhistlePodu pic.twitter.com/0iHHTZ1Evg

— DHONI Era™ 🤩 (@TheDhoniEra) July 10, 2021
😭😭😭😭😭😭😭😭😭😭😭😭😭😭😭😭😭😭😭😭😭😭😭😭😭😭😭😭😭
🇮🇳💔 pic.twitter.com/mteOHSDVPa

— L.K.Garg (@lkgargji) July 10, 2021
Sab kuch seh lenge but The Face of Mahi when he cried 😩that moment is Heartbreaking 💔
The Player who never show his emotions, that day he show to all that he is also a human being.
Thank You @msdhoni for your all efforts that day.

— Triyambak777 (@triyambak777) July 10, 2021
— Sai Krishna💔 (@SaiKingkohli) July 9, 2021
The World Cup semifinal between India and New Zealand was played over two days. On 9th July, with rain interrupting play, the Kiwis won the toss in Manchester and opted to bat first. Kane Williamson's men scored 239/8 with skipper Williamson scoring 67 and Ross Taylor 74 when the game resumed July 10.
India lost wickets early and were tottering at 22/4 inside the first 10 overs. That was when Rishabh Pant (32) and Hardik Pandya (32) added a 47-run stand and brought the Indian score to 71 before Pant got dismissed. Pandya soon followed leaving India still 148 behind.
That was when MS Dhoni walked out to bat and the Indian fans held their breath back. He scored 50 and found support from Ravindra Jadeja wh scored a brilliant 77 off 59 balls. The match seemed in India's control when in the 49th over of the Indian innings, Dhoni was run-out. All the Indian fans watching the game could not quite believe what had happened. The dream of winning another World Cup title was diminished with Dhoni's exit from the pith.
India lost the game by 18 runs and The Kiwis were through to the final. Once again a Kiwi team became India's nemesis. England won the final in dramatic style four days later and became the World Champions. Meanwhile, Indian fans are yet to get over that MS Dhoni moment.
Also Read: Sri Lanka Prepares Alternate Team For India Series