Australia's men and women's cricket team will both play the Ashes series which headlines their home season 2021-2022. Both the men's and the women's team have a hectic season lined up with the women's team kicking off the season. They play against the Indian women's cricket team in an all-format series. The dates of the proposed series are yet to be announced. 
Meanwhile, the men's team will kick off the season with a one-off Test match against Afghanistan. They then play England in an Ashes series comprising of five Test matches between 8 December to 18 January. The final Test match will be played at Perth. 
The Women's Ashes series will comprise of one Test match between January 27-30, 2022. England and Australia women's team will then play a limited-overs series comprising of three T20Is and three ODIs. The T20Is will be played between February 4-10 and the ODIs between February 13-19. 
The men's side will feature in three ODIs and five T20Is against New Zealand. The ODIs will be played between January 30- February 5. The five-match T20I series will round off the series. The five matches will be played between February 8 to February 20, 2022. 
Ashes Series To Kick Off Australian Summer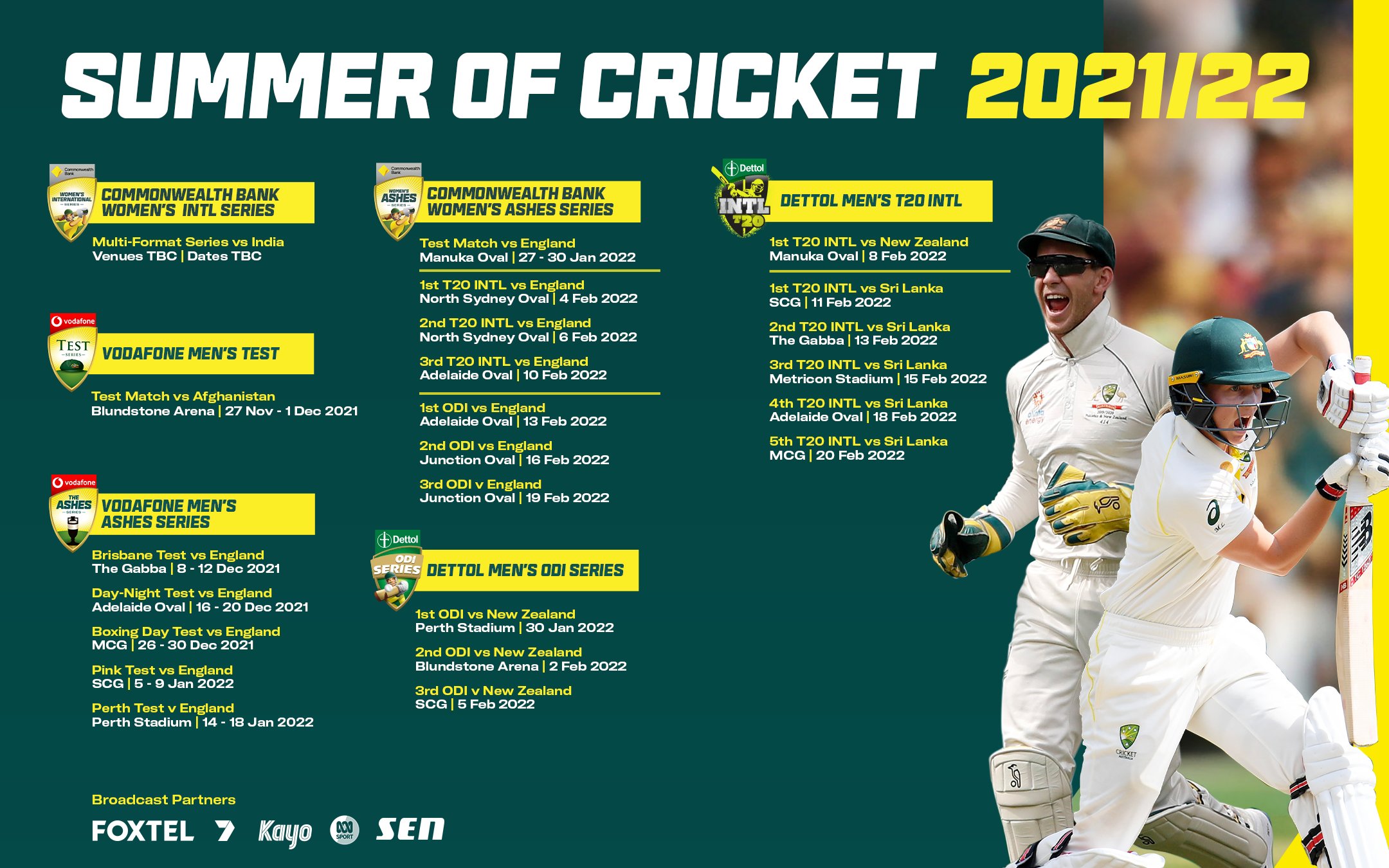 Meanwhile, Australian cricket is rocked again with new revelations in the 2018 ball-tampering scandal. The new revelations were made by Cameron Bancroft saying that the bowlers were involved in the ball-tampering scandal. The Australian bowlers Mitchell Starc, Pat Cummins, Josh Hazlewood and Nathan Lyon then released a joint statement denying their involvement in the same. 
On the other hand, Australian Test skipper Tim Paine has hinted that this upcoming Ashes series might be his last. He has backed Steve Smith to replace him as the long-format skipper throwing his support behind him.
"I think so. Obviously I don't make that decision but the time I played with Steve as captain he was excellent. Certainly tactically he is as good as you get. Certainly tactically he is as good as you get. Then obviously South Africa events happened and he's not doing it anymore. But, yeah, I would support him getting that job again" Paine said.
Also Read: Tim Paine Clarifies His 'Sideshow' Comment On Indian Cricketers