Rahul Dravid, the current Indian head coach has broken his silence on Virat Kohli's white-ball captaincy row. Kohli was asked to step down as the Indian ODI skipper on the day when the squad for the South Africa Test series was announced (December 8). Kohli's removal started a debate regarding him being not on the same page with BCCI and the selectors.
BCCI President Sourav Ganguly then gave a statement giving the reasons why he was asked to step down as the ODI captain. However, Kohli in a recent press conference clarified his take on the rumors which has made the matter even more confusing.
His comments indicated at the underlying tension between him and the administrators and left Indian cricket divided over the two cricketing stalwarts.
This is the first time, Rahul Dravid has spoken on the issue since Kohli's removal as ODI skipper. He said that the selectors should have communicated and discussed with Kohli before taking a decision on Kohli's future.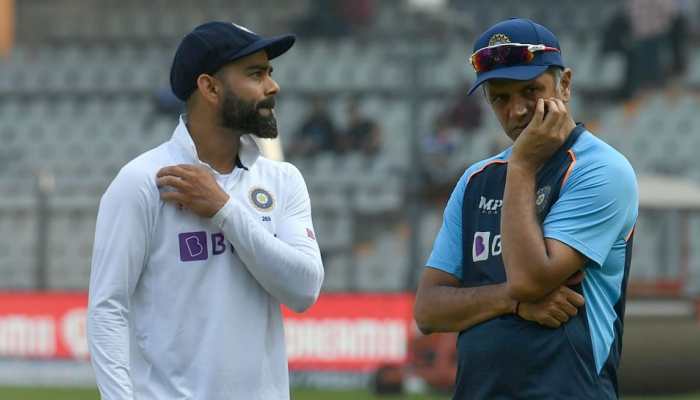 "To be honest, that's the role of the selectors. Not going to get into conversations I might or might not have had. Not the place or time for that, or for discussing my internal conversations in the media," Dravid said in the pre-match virtual presser on Saturday.
Dravid further praised the Indian skipper for his good work as India's Test skipper and hopes that he has a good series against the Proteas.
Virat Kohli Loves Test Cricket: Rahul Dravid
"Virat's played a huge role in that. As a player and leader, he's been fantastic. He's one of those who really loves Test cricket, hopefully he has a great series. That will benefit the team," he said.
South Africa vs India 2020-21 Test Schedule
1st Test: December 26-30
Venue: SuperSport Park, Centurion, 1:30 PM
2nd Test: January 3-7
Venue: The Wanderers Stadium, Johannesburg, 1:30 PM
3rd Test: January 11-15
Venue: Newlands, Cape Town, 1:30 PM
---